MONROEVILLE, Alabama • May 4, 2023 – Monroeville Main Street (MMS) will begin hosting a new season of "Second Saturdays On-the-Square" on May 13, 2023, after a rain delay on the second Saturday of April, when Monroeville families may gather again for free activities on the lawn of Monroe County Museum. Sponsored by Monroe County Museum and the City of Monroeville, the 2023 Second Saturday season will once more feature games, storytelling, music, art projects, and giveaways, from 9:00 AM until noon, April 8, 2023, through October 14, 2023.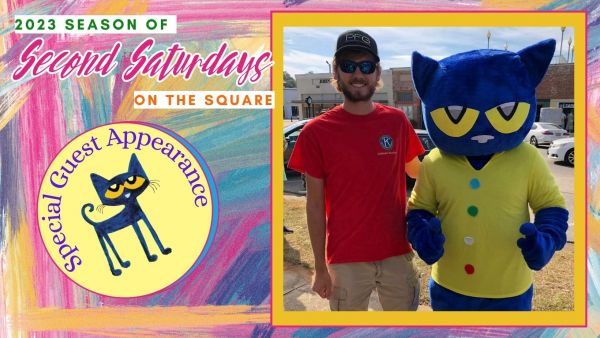 "We will present the Letter by Letter Project with artist Beck Brooks, And we are inviting youngsters to bring an instrument to join in with the Pickers Circle of Musicians," said MMS Executive Director Anne Bryan.
Bryan also related that "Pete the Cat," originally scheduled to appear on the Second Saturday of April, will now join children and their parents on the Second Saturday of May. In addition, she stated that families may also expect the games to include giant chess and giant checkers.
In coordination with the Second Saturday of May, Monroeville Main Street will also host its inaugural "Book It" 5K Run/Walk at 8:00 A.M. on May 13th, to raise funds to support Monroeville Main Street projects. MMS Executive Director Bryan explained that during the upcoming Second Saturday event, Monroeville Main Street will also celebrate the completion of both its 2021 and 2022 AARP Community Challenge Grant projects.
Parents are advised to visit the Monroeville Main Street Facebook page on Friday, May 12, 2023, for information about inclement weather that may impact Second Saturday On The Square." For other information, contact Monroeville Main Street at 251-575-1457 or monroevillemainstreet@outlook.com.